Professional Activities
In 2011 I took up my duties as 
associate professor
 in the scientific discipline of Pedagogy with a concentration in General and Social Pedagogy (equivalent to "Pedagogia Generale e Sociale M-PED/01") at the Faculty of Education of the Free University of Bozen-Bolzano, Italy. Since 2006 I have been a member of the 
Faculty Council
. From 2007-2010 I served on the 
Committee for Equal Opportunities
 of the Free University of Bozen-Bolzano. I was member and president of several examination boards for bachelor and master programs in teacher-training for all levels, including nursery/primary education. I am on the editorial board of the international journal 
"Enseñanza & Teaching: Revista interuniversitaria de didáctica"
 edited by the University of Salamanca, Spain. Moreover, starting from 2013 I have been appointed by the Ministry of Research for the evaluation of study programs and research outputs.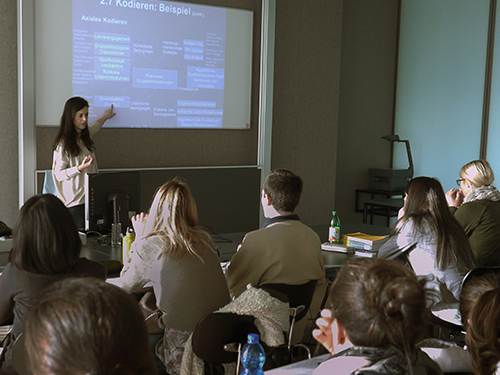 From 2005-2011 I served as an assistant professor at the Faculty of Education of the Free University of Bozen-Bolzano. I continued my professional development by pursuing an additional doctorate in Psychology including other courses of studies in areas affiliated with my teaching course work. In the course of these studies I gained new insights which added to the body of knowledge in my field and which will be outlined in further detail below.
Starting from 2000 until 2005 I was involved intermittently in the development of the program for teacher training at the Faculty of Education of the Free University of Bozen-Bolzano, Italy. As assistant to the Dean of the Faculty, I also collaborated in the implementation of study programs for kindergarten and school teachers along with various research projects. In order to keep abreast of current academic knowledge I enrolled in a Masters degree program at the University of London in the academic year 2001/2002 and eventually completed a PhD program at the University of Innsbruck in Austria in 2004.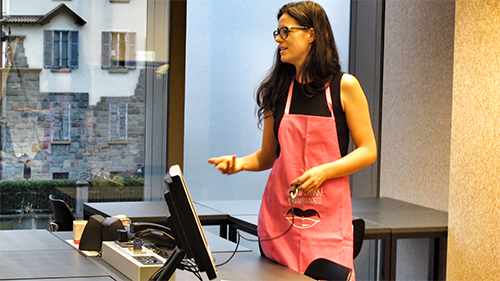 In order to create a strong foundation on which to base my academic beginnings, my courses of studies, while fairly broad, specialized in general pedagogy and social psychology, which helped to focus and define my strong desire to use research in these areas to strengthen my community and the general academic canon. My choice of "Leopold-Franzens" University in Innsbruck, Austria, for my doctoral work was oriented not only in the caliber of scholars available in my field but also in the fact that they have an interest in the region and develop courses that help educators target the local population. I obtained my first doctorate in Education in 2004 and my second doctorate in Psychology in 2006. In order to fuse and expand my research base I did a Master in "Psychology of Education" from the Institute of Education, University of London. In my position as associate professor at the Free University of Bozen-Bolzano I utilize the skills learned from intensive study in both disciplines in order to offer cutting edge course work and develop and maintain strong connections to the student body which hopefully encourages their growth not only as students but as citizens. One way that I keep an open mind and a working knowledge of both traditional and modern theory is by being active in a number of different organizations.
Our university mission to engage the local community in regional researchers' work led me to organize a number of presentations to various local organizations where we discussed my research, both local and international, such as my open forum on "Lecturing Adventureship in Pakistan" held in December 2007 at the Faculty of Education in Brixen. Ongoing collaborations have been established with local agencies to enrich the students' experience. Below you can see an image of a joint lecture with representatives of the equal opportunities council of Brixen in autumn of 2013.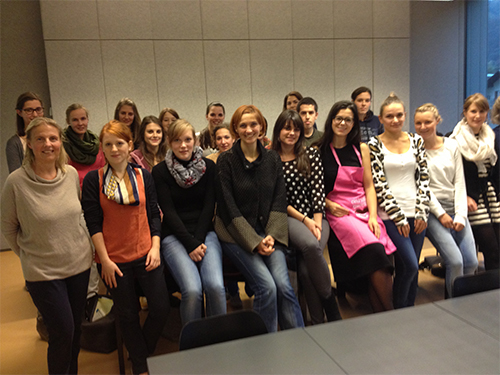 In December of 2007 I founded a new biannual forum titled "Forum for Young Graduates in South Tyrol". Since 2011 the forum in sponsored by the Government of South Tyrol, Department of German Culture. The topic of this biannual forum is "Cultures in Dialogue" and it is held at the Faculty of Education. Young graduates from diverse disciplines are invited to address multi-cultural issues from an interdisciplinary viewpoint. I founded this forum with the objective of establishing a platform for inter-regional dialogue between the community at large and the faculties of various colleges. This was the first collaboration with a local yet internationally active NGO and I hope it encourages further collaborations in other arenas. In pursuit of that goal I organized a series of discussion evenings, two in 2007 entitled "Fortress Europe–Bulwark South Tyrol", in 2008 "CSR, Corporate Social Responsibility–Promise Responsibility" and "It works! Living together is possible. Discussion on the issue of integration" on integration and immigration issues tailored to the needs of South Tyrol. The topic of "Corporate Social Responsibility" (CSR) is of growing importance for the economy, politics, and society in general. Children and Youth hold a dual position as consumers and future leaders in the public sector. They ought to know that they need to take on their responsibility for their social, ecological and economical actions. The next one in 2009 tackled the issue of "Females as Objects–On the Trail of Modern Slavery". In addition, I invited two experts in 2009 delivering special lectures on "Prince Mohammad University–the Rising Jewel in the Sand of the Eastern Province of Saudi Arabia" and "Woman's Mental Health Issues directly relating to Alcoholism and Addiction in Saudi Arabia". From 2011-2012 I was engaged in a film project with the Ministry of Information of the Sultanate of Oman focusing on social and familial changes in the Arabian Gulf.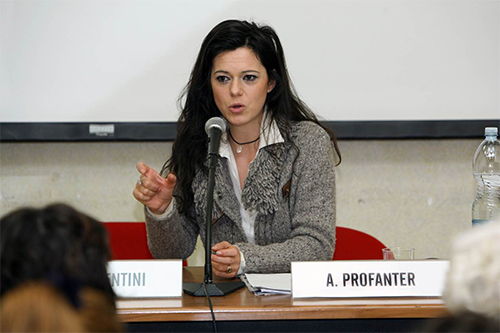 I am part of the core of faculty educating future teachers who hold a key position in this and I want to take my responsibility seriously and stimulate public discussions to create awareness. As globalization of industries occur and economies become more entangled, the consequent movement of individuals to "countries of promise" demands that a closer look be given to immigration issues and the consequent integration of peoples into their newly found homeland. This influx of immigrants is a looming time-bomb that can rip apart societies unless immediate pre-emptive action is taken to diffuse the resultant growing uneasiness. Research plays a key role in the development of successful models of intercultural communication as well as integration. The dissemination of study results on cross-cultural comparism shall raise awareness among the general populace towards mutual understanding, social protection and social inclusion. I am convinced that through my research as well as teaching activities I can constitute an important, albeit small, contribution towards achieving that goal. Authentic social responsibility ought to be rooted in an ethic which bears up to the numerous questions of this fast changing, globalized world.